Friday, March 4th, 2011
Yamaha Raptor 125: Press Release
3/04/2011: For Immediate Release:
(2010-2011) Yamaha Raptor 125.
Price: S/O-$289.95 | FULL-$339.95
Series: Performance and Competition
Note: Because of the Smaller CC engine, the Competition Series does not feature the Tri Max Core. It has the Performance Series core. Upgrading to the Competition Series is purely aesthetic.†

Colors:Black, Blue, and Polished
Model Code: 4167


Need Hi-Resolution Photographs?
Click Here to download the Press Pack. (45MB)
Includes 8 pictures of the exhaust on and off the bike.

Click Here to purchase this system

Click Here to hear the exhaust system.

We brought in a customer's Yamaha Raptor 125 for full research and development on an exhaust system. After development and endless dyno testing, HMF came up with a Slip On and Full System for the Yamaha Raptor 125.

The Testing
We tried 4 different head pipe designs along with 3 different silencer designs before coming up with a combo that made good power across the board.
By simply bolting our full system up to the little Raptor we saw a 15% gain in power. 
After seeing how choked up the intake side is, we removed the air box lid, backfire screen, and added a K&N filter with Outerwear. We found the stock carburetor was not up to the task of supporting the increased flow of the new exhaust and air box/filter modifications. 
The Keihin PE28 Carb was dropped in place of the original. After some fine tuning, we saw a
30%
power gain over stock.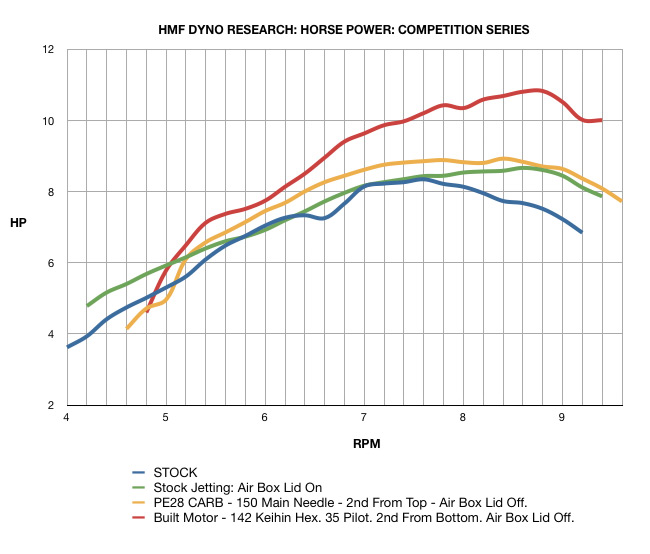 Engine Mod
We put together an engine package that would increase compression from 10:1 to 11:1 with a Wiseco stock bore piston, Stage 1 Hotcam, and ported cylinder head. Even with this relatively mild combo, we peaked out at 10.92 horse power. Thatís a 41% power gain over stock! The Engine Kit is available through HMF. See the Accessories below.†

Accessories
There's a lot of things you can do in addition to the exhaust to increase the overall performance of the Yamaha Raptor 125. We have a number of tuning products available through HMF for this. We also have an Engine kit to take it's power to the ultimate level.
See all the accessories here.
Testimonials
"HMF is by far the best pipe I have ever run."
- Chris Jenks